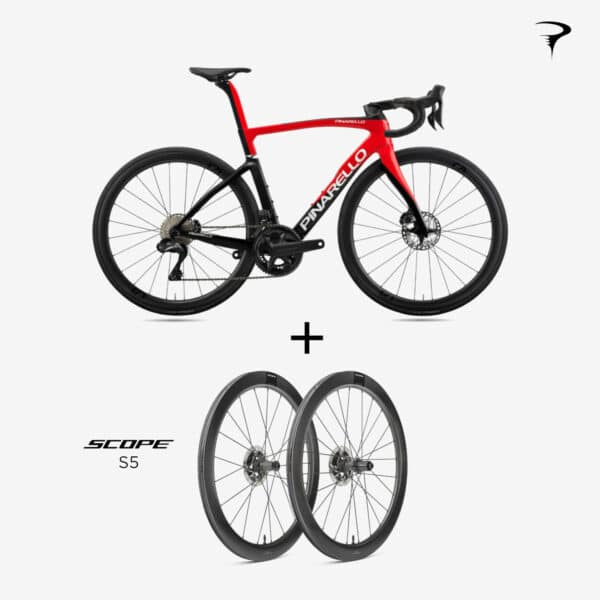 Pinarello
[BUNDLE] จักรยานเสือหมอบ F7 ROAD BIKE + ล้อจักรยาน SCOPE S5
F7 Road bike
Ultegra Di2 + Fulcrum Racing 500 DB
Wheels Upgrade
SCOPE S5 DISC BICYCLE WHEELS
1x ล้อจักรยาน S5 DISC BICYCLE WHEELS
- Shimano
Condition : Clearance
สินค้า Clearance เป็นสินค้าขายตามสภาพจริง อาจมีความไม่สมบูรณ์เกิดขึ้นได้ สินค้าทั้งหมดใน Condition นี้จะไม่อยู่ในเงื่อนไขการรับประกันสินค้าของบริษัท ไม่สามารถเปลี่ยนหรือขอคืนเงินค่าสินค้าได้ในทุกกรณี
ส่งของผ่านบริษัทขนส่งชั้นนำ
ส่งของภายใน 1-3 วันทำการทั่วประเทศไทย
Guaranteed Safe Checkout
Description :
BUILT TO WIN NO DISCUSSION
Pinarello is proud to announce the launch of the Pinarello F, a totally new bike, created to offer extremely high performance in a package that's accessible to a wide range of cyclists.
We focused on the concept of ALL-ROUND PERFORMANCE, because all true riders know that what goes up, must come down. For this reason, the Pinarello F is designed to excel on all terrain and is as adept at climbing as it is on a high-speed descent.
The F builds on Pinarello's rich history of extraordinary victories, iconic bicycles, passion, and expertise. With its own unique carbon fibre and geometry designed with competition in mind, it promises to be the perfect bicycle for whatever challenges lay ahead.
30 Grand Tours have been won on Pinarello bikes. 70 years of victories and continuous improvements have been distilled into what we consider the best race geometry in the industry.
For the Pinarello F, we produced a dedicated competition geometry based closely on the Dogma F (available in nine sizes rather than the Dogma F's 11).
LIGHTNESS WITHOUT COMPROMISE
When you're hunting victory,every gram counts.But both performance and safety will suffer if the weight of the frame is the manufacturer's only objective.
It is both restrictive and reductive to weigh the frame in isolation.For that reason,Pinarello believes that it's imperative to consider the entire system: Frame, seat post, fork, handlebar, and dedicated assembly components such as our 3D printed titanium seat clamp.
But just in case anyone wants to question our wisdom,we're happy to share the simplified details:
950g – F9 and F7
990 g – F5
* Raw frame in size 53
PRACTICALLY MADE TO MEASURE
Most top-of-the-range road bikes from our competitors are offered in sixto eight sizes at most.We offer nine.
Why? Because we know how crucial positioning on the saddle is for a cyclist who aspires to great goals, which is why our competition geometry was developed for the new Pinarello F in nine sizes.
When combined with our extensive range of stem and handlebar sizes that we offer with our MOST range, it's clear that every athlete will be able to position himself almost perfectly on our new Pinarello F.
The results prove it: Our bikes are the fastest in every category. From the track to the road and on to gravel, all of our bikes are designed in the wind tunnel, with the most advanced CFD systems to maximise every aerodynamic advantage.
TiCr – Full cable integration
Aero seat post – Providing a huge aero improvement in the rear triangle
Downtube – the bottle is covered by the recessed downtube
Aerodynamic head tube
Tapered seat tube
The correct choice of materials will deeply influence a frame's performance, and the Pinarello F is available in different types of carbon fibre to best serve each rider's needs.These are provided by our partners at Toray in Japan,the world's leading manufacturer of carbon fibre:
T900: Used on the F9 and F7 models, offering the ideal balance between reactivity, low weight, and vibration absorption. Perfect for competition.
Carbon Reinforced Polymer (CFRP) is used to optimise every section of the frame to achieve the desired stiffness and lightness. For example, in areas where the stiffness is favoured, a high modulus fibre (HM) is chosen, while in areas where strength is essential, a high strength fibre (HT) is preferred. This choice contributes to increased impact strength, helping to prevent breakage.
WIDER CLEARANCE,WITHOUT COMPROMISING RESPONSIVENESS
The Pinarello F offers wheel clearance for tyres up to 30mm, while maintaining a compact, responsive rear triangle. The size of the rear triangle and the length of a frame's chain stays are crucial to a bike's responsiveness and handling.
On the Pinarello F, we have managed to provide clearance up to 30mm while keeping the chain stays between 406 and 410mm (depending on size).This is the perfect compromise between versatility and performance.
INTEGRATED SEATPOST CLAMP
The integrated seatpost clamp on the Pinarello F reduces weight by 36g, compared to the previous model, and provides improved aerodynamic performance.We have also reduced the thickness of the top tube and the seat postto further improve aerodynamics.
The Pinarello F series shares the same seatpost with the Dogma F – a masterpiece of aerodynamics, weight and stiffness.
IMPROVED BATTERY PLACEMENT
Positioning electronic groupset batteries within the bottom bracket shell allows us to reduce the thickness of the seat post and improve the overall aerodynamic performance of the frame, as well as lowering the overall centre of gravity, improving handling.
F SERIES TECHNICAL SPECIFICATION
Carbon T900 UD finish for F7
Asymmetric frame
Twin Arms
Dedicated Onda fork
Dedicate aero seat post
Dedicated FSC Frontal seat clamp, integrated and aerodynamic
Think 2, to fit electronical or mechanical group sets on the same frame
TiCR internal cable routing
TiCR integrated headset ( 1.5 upper and 1.5 lower)
Italian thread BB
Flatbackprofiles
ForkFlap
Max Tire: 700c x 30 mm
RAD SYSTEM disc brakes
Disc Flat Mount (max Ø160 mm)
Front Axle Ø12 x 100 mm Shimano®
Rear Axle Ø12 x 142 mm Shimano®
Details of what you would get out of F7 Complete bike purchase.
CARBON: T900
GROUPSET: SHIMANO Ultegra Di2
CRANKSET: SHIMANO Ultegra Di2
WHEELS: FULCRUM RACING 500 DB
COMPONENTS: TIGER STEM AND JAGUAR HANDLEBAR
SADDLE: MOST Aircross
*รูปภาพประกอบใช้สำหรับโชว์สีเฟรมจักรยานเท่านั้น ชิ้นส่วนอะไหล่อาจแตกต่างจากภาพที่เห็นด้านข้าง
Review (0) :
ยังไม่มีบทวิจารณ์